You can read all the facts you like about the launch of Space Shuttle Atlantis on mission STS-132 at the Wikipedia page or elsewhere. But being there was a once-in-a-lifetime event for me, and for a whole bunch of other people who travelled from near (Florida, Georgia, Texas, etc.) and far (Australia, Sweden, Germany, etc.) to see the launch.
NASA sell tickets for viewing from a number of locations, but they all sold out within a minute a few weeks ago, so I joined the crowds viewing from parks and vacant blocks of land along the waterfront in Titusville. Arriving nearly five hours before the launch, I parked in one of the few remaining spaces in a strip of land that was converted into parking for the day. No doubt there were countless other similar plots of land up and down the coast, earning $20 per car for the lucky owners. For the actual viewing, I was on a narrow kind of sea wall, with a small swamp behind, some low rushes in front, and crowds on either side. And so we waited.
I chatted with some folks who'd driven over from Texas, a family from Canada, as well as the family from Georgia on my left who, like me, had been really bitten by the space bug only in the last year or so. But we'd all taken the time and trouble to be there, and there was plenty to talk about while we waited.
As the 2:20pm launch drew nearer, the crowd kept swelling, and everyone began to sort out their viewing and photography equipment. As we were 12 miles away from the launchpad, there was also a far amount of explaining just which of those bumps on the horizon was the actual shuttle. I was getting regular updates on launch readiness on my mobile (from http://www.spaceflightnow.com/, via Twitter's tweet-to-SMS service), but unfortunately nobody had the launch radio on nearby.  Someone said that the launch was actually due about 30 seconds after 2:20pm, so we did our own countdown, and around zero, we saw the steam begin to rise from the water they dump under the shuttle to control the noise. Being so far away, the noise would take about a minute to reach us, so we watch as the shuttle silently rose above the launch pad, our cheers by far the loudest noise.
For scale, the VAB on the far right of the above photo is 160 metres tall. Here's a closeup (such was possible from 12 miles):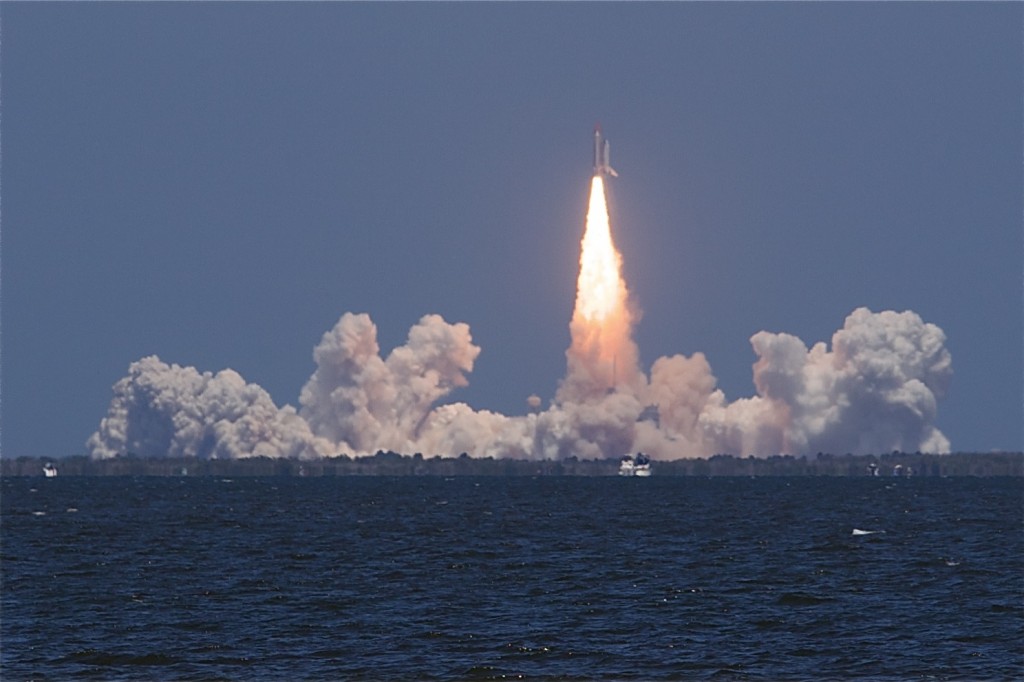 And 43 seconds later, around when we started to hear the noise of liftoff: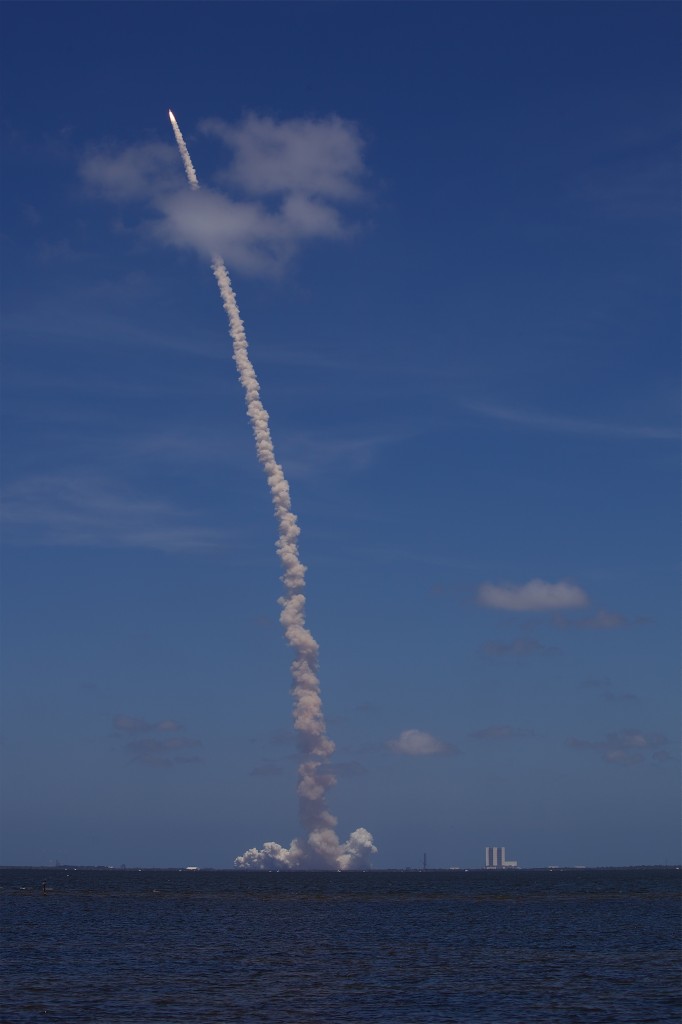 We continued watching, looking for the solid rocket booster separation, but it was either too far to see, or cloud obscured it. And then, the shuttle was gone, leaving just the trail of smoke hanging in the sky, and all of us standing on the ground.